About Myself
My Biography
My name is Maziar Nazari. I am an agate collector from Iran, born 1968 and married.
I have M Sc. degree in Ore Geology and I am scientific staff of Geology Department of Azad University from 1996.
I fell in love with agates when I was scholar of BS in Geology. During the last 22 years, I have had a long and varied interest in collecting, Agates, Thunder's Eggs, Geodes, and Jaspers from all over Iran. Since 1988 I have spent much of my time involved in both field and my cutting and polishing workshop, that located in the backyard of my house. During last decade, my particular interests have concentrated on introduce agate, geode and jaspers of Iran, to the all those interested, over the world.
There are a lot of agate fields in Iran, but no scientific or commercial activities have been done for systematic exploitation on them. Every year, I make several field trips to these areas collecting agates and geological field studies. I have published 10 papers on Iranian agates, by now. Six papers have published in Farsi (Persian) language. Three papers have published in English and the last on German language in journals and proceedings as following:
Nazari M. (2009) Achate und geoden aus der Region Khur, Zentral-Iran. Mineralien Welt, 3/2009, pp. 91-96.

Nazari M. (2008) Agates and geodes from the Khur Area,Central Iran. Mineralogia (Mineralogical Society of Poland) , Special Papers, Vol. 32, p. 119.

Nazari M. (2005) The Khur Agate Field, Central Iran. Symposium on Agates and Cryptocrystalline Quartz. September 10-13, 2005. Golden, Colorado, USA. Proceeding Booklet. pp. 36-52.

Nazari M. (2004) Agates & Geodes from The Khur area, Central Iran. The Australian Gemmologist. Vol. 22, No.1, pp. 21-28.

My diligence in visiting agate fields in Iran and collecting hundreds of specimens made me a great collector of Iranian agates and it would be a great pleasure if I could have some trades with other collectors around the world. I would be in touch in my e-mail, guestbook comment box, my cell phone number and mailing address, those issued in my contact page, to give any more information about Iranian agates to all lovers of these beautiful creatures of the Nature.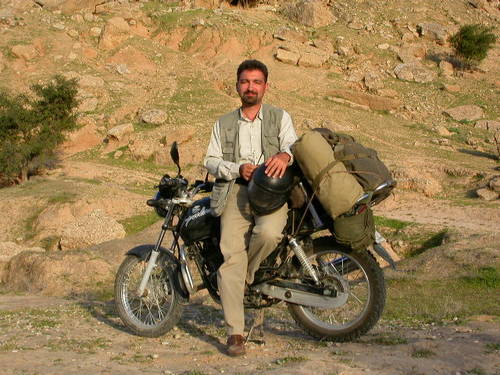 How could you get a copy of my article?
Write me now!
I will send you a PDF copy of my article free.